Types of services
The subsea power and cable system laboratory can perform a wide range of combined tests for submarine cable accessories such as connectors or penetrators.
Thermo-electric tests with and without pressure can be performed to verify that the electrical performances of the connector assembly remain within design  limits. Pressure cycles at high pressurization and depressurization rate can also be performed to verify the electrical and mechanical integrity of the connector assembly.
Our class IV* CE pressure vessel allows hyperbaric testing from 0 to 40barg. It has been designed with an ID = 1500mm and a working length of 5000mm.
A wide range of cable arrangements is possible thanks to the large front door and cable glands. The different feedthrough designs allow to pass through the pressure vessel up to 9 HV cable to form the testing loop.
The hyperbaric platform is located in a HVAC lab but can be easily transported to the dielectric hall to perform HVDC dielectric test.
The whole testing parameters can be recorded and saved via a dedicated acquisition system.
Key services and capabilities:
Hyperbaric testing up to 40barg
Electrical AC test with heat cycles for MV and HV cables
Dielectric test of HVDC cables
*class IV according to DESP 2014/68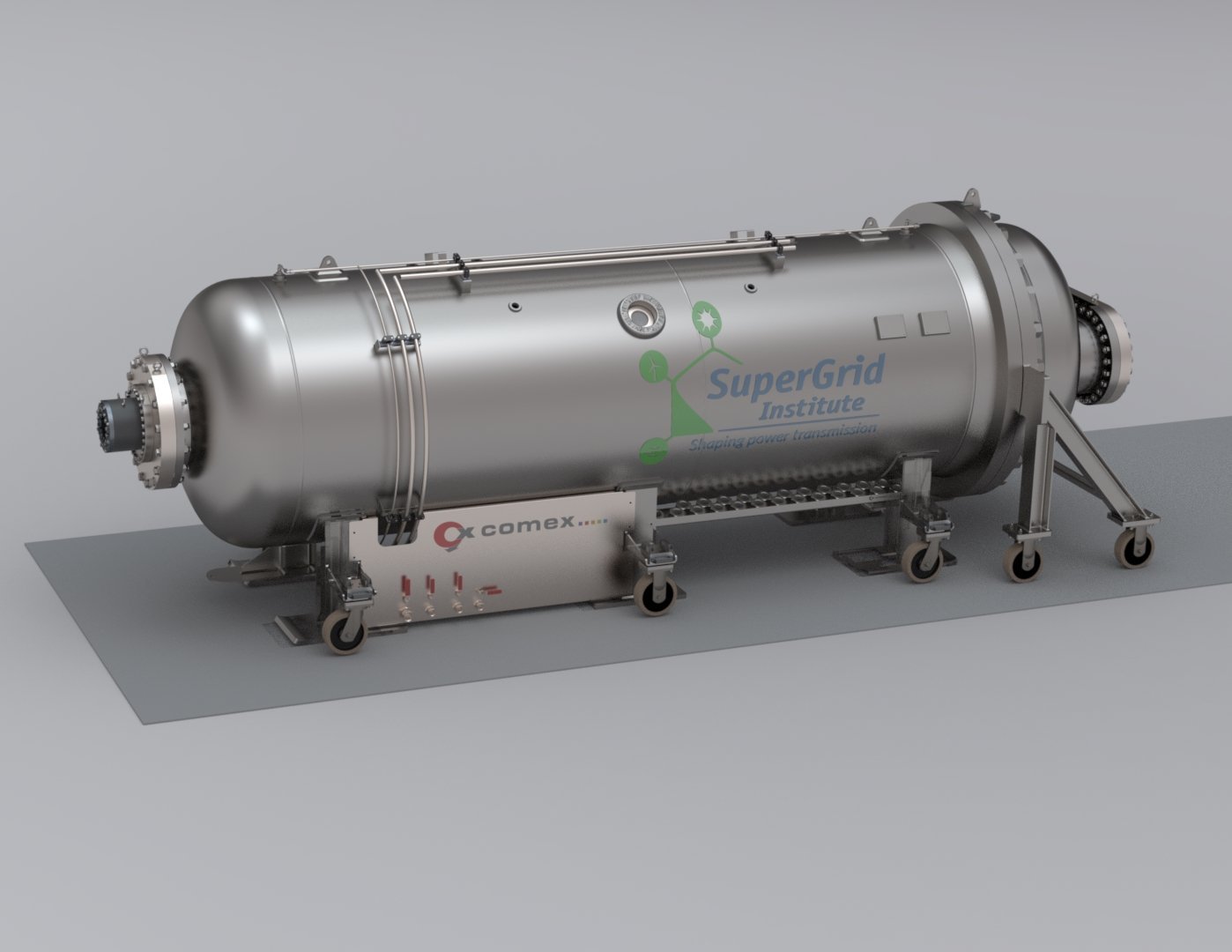 Dielectric & thermal test

Laboratory & Equipment description
Technical characteristics:
Nominal pressure: 40barg
Working volume: 1400mm x 700mm x 5000mm
Temperature range: 4 – 60°C (active heating/cooling on request)
Sea water and SF6 leakproof
2 technical flanges of ID=100mm for instrumentation/power supply
1 porthole for visual inspection
Up to 6 HV cables feedthroughs (<66kV), or alternatively up to 2 EHV cable feedthroughs (<600kV) can be disposed on the front door while 3 HV cables feedthroughs, or alternatively 1 EHV cable feedthroughs can be disposed on the rear flange. Specific flange can be designed upon request.