Hydraulic machines IEC 60193 test platform
Comprehensive pump-turbine characterisation testing
Qualifying hydraulic runners in accordance with the IEC 60193 standard
Our hydraulic test rig offers a complete solution for performing acceptance tests on Francis turbines, storage pumps and reversible pump-turbines, in accordance with the IEC 60193 standard.
Investigating physical hydraulic phenomena to improve efficiency
Physical hydraulic phenomena such as S-shape, hump region or cavitation characteristics can be investigated thanks to combined measurements, the ability to visualise water flow on a reduced-scale experimental test rig and Computational Fluid Dynamics simulation (CFD).
Located at our Grenoble site, the hydraulic test platform is the only independent hydraulic test rig in France able to perform tests according to the IEC 60193 standard.
Our modern test rig offers flexibility and reduced down time. It can operate in all 4 quadrants with automated operational mode settings. We perform all test operations and mode changing from the control room with automated valves, allowing fast, repeatable tests. Our modular facility can accommodate different vertical shaft runners for various hydraulic models (Francis turbine or Pump-Turbine).
The platform is equipped with high-precision measuring instruments, suitable for both development and acceptance tests. Automated system and supervision software enable rapid performance assessment.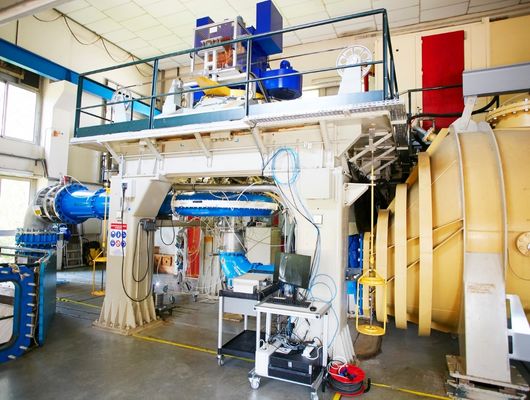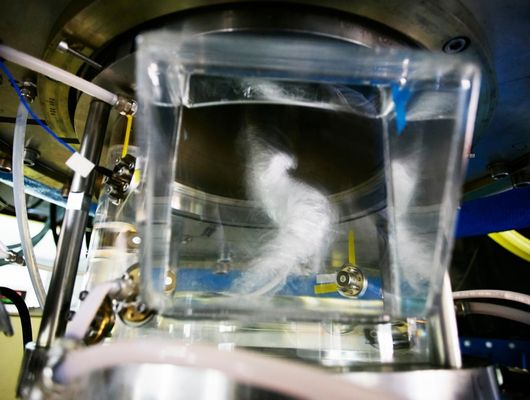 The main features of the platform are:
Maximum Discharge: 800 l/s

Maximum Rotational Speed: 1800 rpm

Output Generator Power: 330 kW

Pumping group Power: 410 kW

Efficiency accuracy: ≤ 0,3 % in accordance with IEC60193 standard
We carry out your acceptance tests in an independant laboratory, supporting your preliminary research and the development of new hydraulic designs. We provide comprehensive characteristic diagrams of reduced-scale models, enabling us to offer an extremely detailed characterisation of your product. By understanding the real operating limits of your machines, we put you in a position to target new market opportunities.
Measuring and visualising cavitation limits

Turbine runaway characterisation

4 quadrants characterisation

Dynamic torque measurements
Dynamic axial and radial thrust measurements

Wicket gates torque measurements

Dissolved oxygen measurements

Velocity field measurement
IEC 60193 independent test rig
The only independent hydraulic test rig in France able to test in all 4 quadrants of reversible pump turbines, according to the IEC60193 standard.
CAO designs & features
We are capable of visualising & measuring water flow structures in a turning runner, thanks to:
Windows on the runner hub and in the upper head cover
Innovative markers such as fine wires or micrometric gas bubbles
Cavitation in the turbine inlet
We are able to visualise cavitation in a turbine inlet on both the pressure and suction sides.
Simulation tools
Computational Fluid Dynamics simulations complete experimental results and give an overall view of the tested machine.
We have developed numerical tools to assist our clients and support our investigations on physical hydraulic phenomena, new runner designs, in-use runner efficiency improvements or experimental data treatments.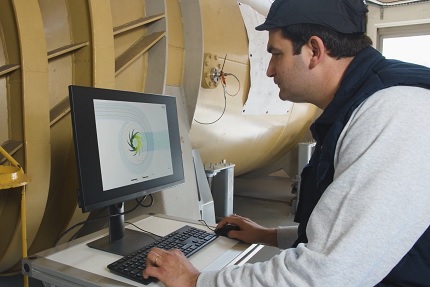 We would very much appreciate your input on the following 3 easy questions.
This survey is totally anonymous (e-mail is optional) and the collected data will only be used inside SuperGrid Institute organisation.