High Voltage test platforms
SuperGrid Institute's High Voltage test platforms provide
a wide range of tests and consulting services for its clients
An exceptional set of high voltage dielectric test platforms developed to support our clients in our in-house research and innovation activity, these facilities are one of the driving forces behind our expertise in HVDC & MVDC technologies. Specialised in HV & MV substation equipment and cables, we also perform characterisation tests on solid, liquid and gas insulation media at competitive rates. Our services are aimed at HV & MV equipment and cable manufacturers, component suppliers and research laboratories with advanced testing needs.
The High Voltage test platforms consist of several test fields dedicated to specific tests and applications.
A 700m² faraday cage, with the possibility of separation into two test areas. These test fields are designed for GIS, AIS and cable system tests.

An outdoor platform is also available for ageing tests on GIS and AIS systems.

Two 20m² shielded rooms for lower voltage tests (up to 400kV).

A hyperbaric test platform for subsea Equipment and cable testing.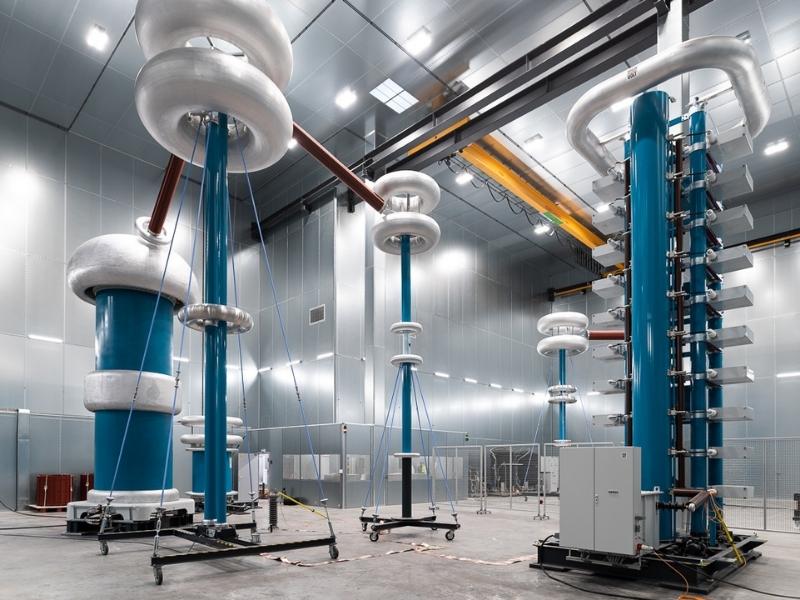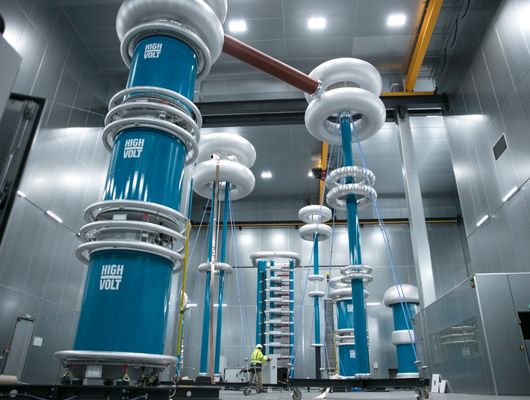 This list is not exhaustive. Please contact us to express your needs so we can offer you a personalised service.
We perform tests according to the CIGRE technical brochures and IEC standards, or according to clients' needs.
Dielectric tests on AC & DC equipment rated up to 500 kV

DC Dielectric and long-term ageing tests on cables with a dummy loop and GIS loop

Bus-charging current switching tests

Partial discharge measurements

Cable monitoring and characterisation (leakage current, space charge)

Characterisation of gas, liquid and solid insulation

Technical advice and consulting services

Combined hyperbaric and dielectric tests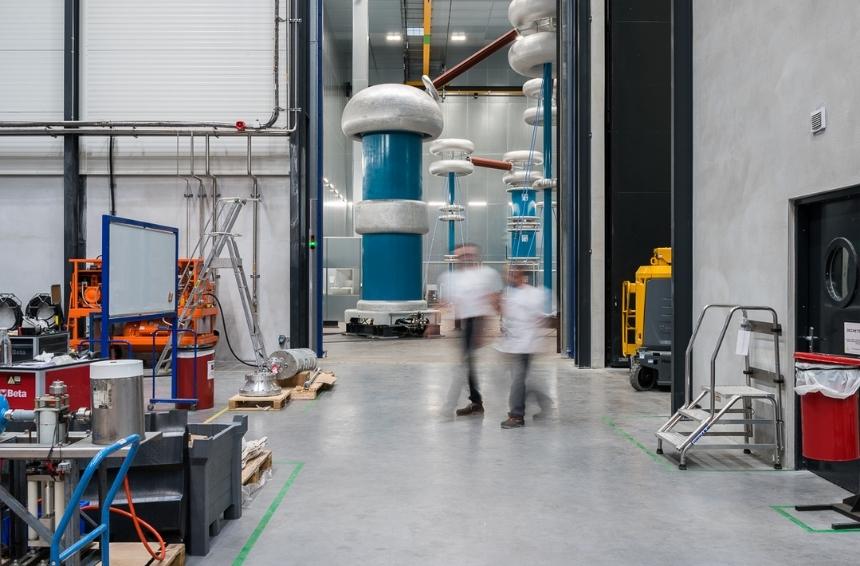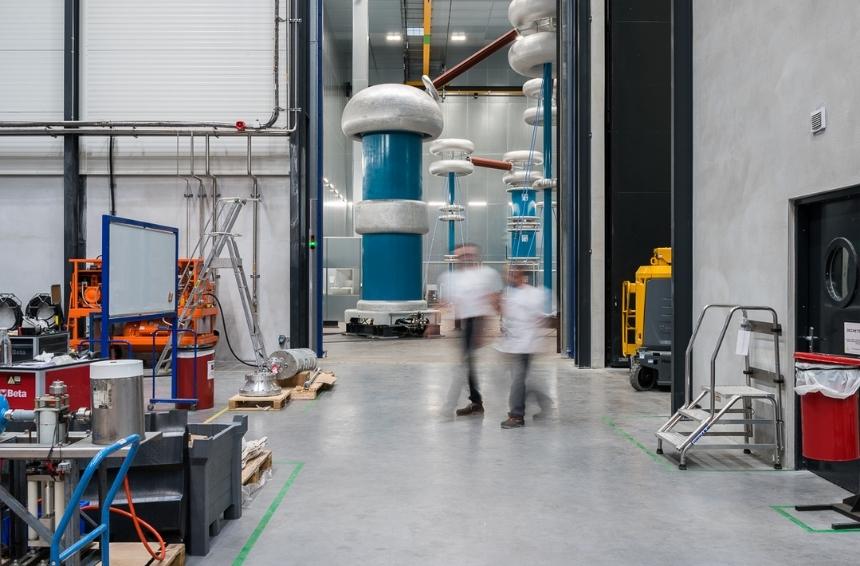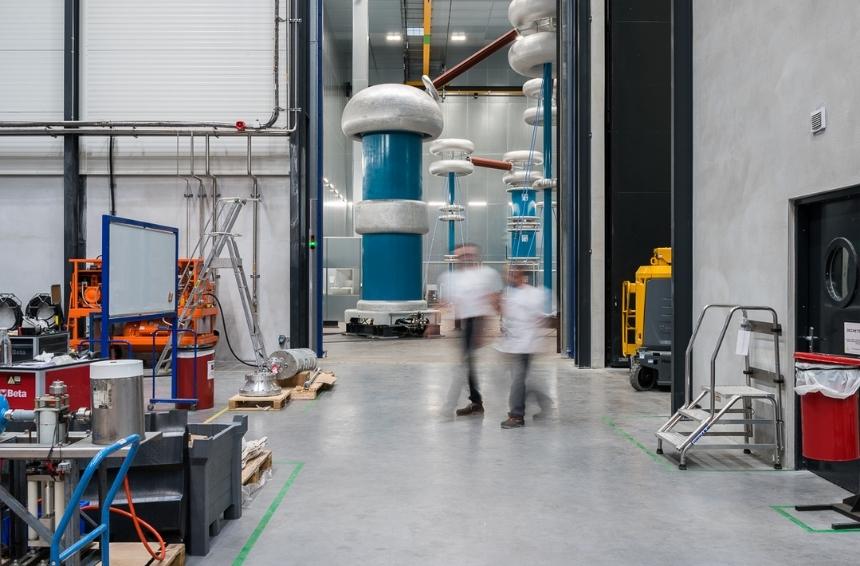 Measurements & Monitoring
Voltage measurements are performed with factory calibrated dividers. All our HVDC generators have embedded RC dividers. Two additional PD-free dividers can be positioned to accommodate different test set-ups:
Universal divider, up to 2000kV LI, 1400kV SI, 1000kV DC, 700kV AC

Capacitive divider up to 800kV AC, with embedded PD measuring impedance
Specific measurements can be carried out with scientific instruments available in the laboratory (UHF systems, UV systems, Ultrasounds, electrometers, high speed camera…)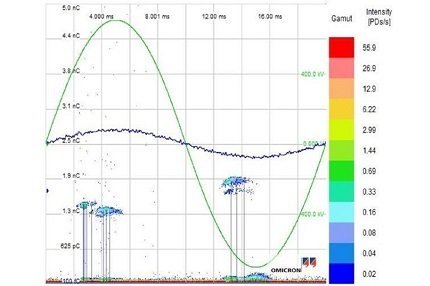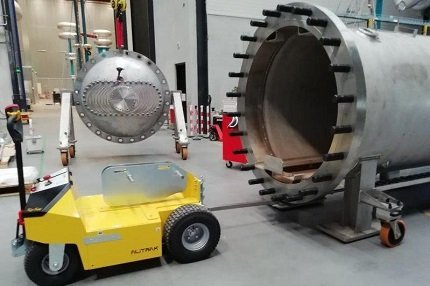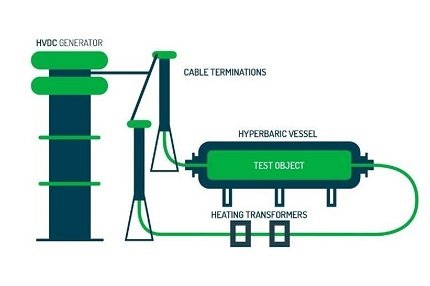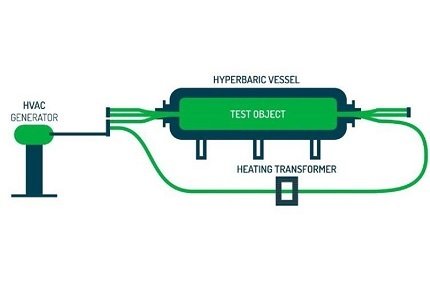 Combined testing possibilities
Low electromagnetic noise levels suitable for PD measurements (<500fC) and other low signal measurements (leakage current…)

Superimposed tests (SUIMP)

AC and impulse cold characteristics (test during operation of the apparatus)

Thermal electric tests overlaying current and voltage

Combined hyperbaric pressure tests (up to 40 bars): voltage and temperature tests on HVDC & MVDC cable systems
General main features of the high voltage test platforms
Equipment
Specification
Other features
DC Sources
Up to 200kV
Up to 400kV

Easy use and handling
Direct cable connection up to 200kV
Polarity reversal
Well-suited for R&D basic tests

HVDC Sources
Up to 800kV, 30mA
Up to 1200kV, 20mA

With polarity reversal
Slope adjustment from 1 to 20 kV/s
Low partial discharge level, below 800fC at rated voltage

HVAC Source
Up to 660kV

Slope adjustment from 1 to 16 kV/s
Fast switch-off unit available
Possibility to test cable length up to 15m with compensation systems

HVAC & HVDC
metal clad source
Up to 750kV AC
Up to 850kV DC

Well-suited for long-terme / ageing tests
Low PD level
Access to outdoor test field (L 11m x W 11 m x H 15m)

Impulse generator
Up to 2000kV
200kJ

Possibility to adjust the generator to deliver impulses from 20kV to 2000kV
BIAS and superimposed compliant

High current heating system
4 x 5kA

Automatic compensation unit for the optimisation of the input power rating