A unique facility for integrated tests on subsea equipment
Our cutting-edge test platform is designed for testing subsea equipment under water pressure up to 40 bar. The key to design validation is conducting tests in a controlled environment with conditions as close to real life as possible. Our research and characterisation activities, carried out in our laboratory, allow you to reduce the development costs of your subsea solutions.
Targeted markets & applications
Along with our high voltage testing facilities, our test platform specifically targets subsea cable, connectors, penetrators and even power distribution hubs for AC and DC medium to high voltage applications.
Our customers are mainly involved in offshore applications such as marine renewable energies (wind, wave and tidal) and subsea distribution systems.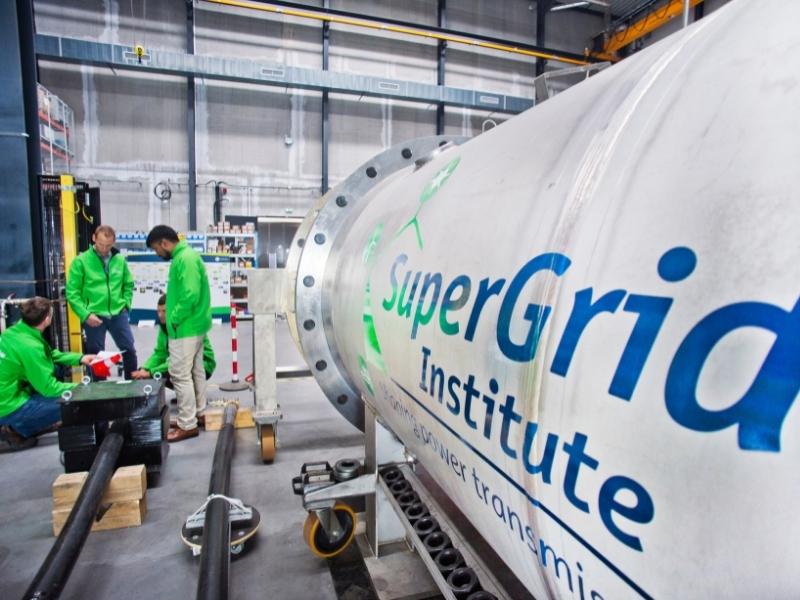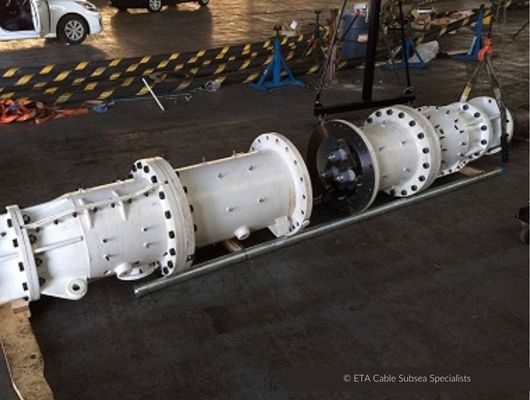 Hyperbaric vessel description
The stainless steel cigar-shaped vessel can accommodate large objects that can be tested up to 40 bar – equivalent to a depth of 400 m.
The non-magnetic properties of the stainless steel prevent undesired losses when AC heating current is applied.
The material's high corrosion resistance enables the use of salt water as the pressure medium to achieve conditions that are as close as possible to real-life.
Pressure regulation
Regulated pressure test profiles with PID controlled pressure and a depressurisation rate up to 20 bar/min.
Object monitoring
Ability to add specific monitoring or power supplies
Active water temperature regulation can be added upon request
Power cable feedthroughs
Up to 6 x 66 kV or 2 x 600 kV cables through the front door
Up to 3 x 66 kV or 1 x 600 kV cables through the rear flange
Thermo electric combination
The hyperbaric vessel is mobile and can be easily installed in either of our HV platforms to combine pressure conditions with thermal and dielectric tests, in AC or DC.
Their main features are detailed in the table below.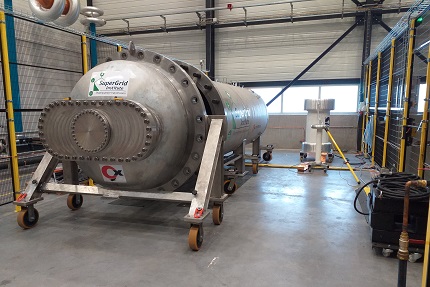 General main features of the high voltage test platforms
Medium voltage hall
Faraday cage
High voltage laboratory
Faraday cage
Hall dimensions
L 9.5 m x W 5.5 m x H 3 m
HV source
Up to 100 kVAC

Up to 600 kVAC
Up to 1200 kVDC

Heating transformer
(with dummy loop)
2 x 1 kA
Impulse generator
N / A
Available services
Our hyperbaric vessel is a valuable asset for subsea material or equipment suppliers and their end users – such as, system operators. During the development and qualification phases of subsea components, the vessel can be used for assessing mechanical behaviour and when coupled to HV testing equipment, it can assess :
Dielectric strength under pressure and thermal stresses of subsea HV equipment

Ageing behaviour of materials under high voltage, thermal and hydrostatic pressure stresses

Other characteristics, according to specific requirements
We would very much appreciate your input on the following 3 easy questions.
This survey is totally anonymous (e-mail is optional) and the collected data will only be used inside SuperGrid Institute organisation.