Sharing our latest news on power electronics
at EPE'22 ECCE Europe!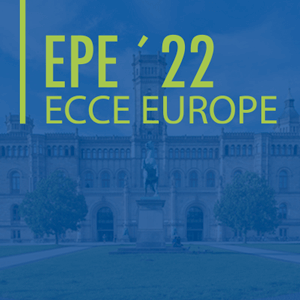 This week, several members of SuperGrid Institute are in Hannover to participate in the EPE'22 ECCE Europe conference and share our latest news to the Power Electronics scientific community. Don't miss our contributions!
𝐓𝐮𝐞𝐬𝐝𝐚𝐲 𝐭𝐡𝐞 𝟎𝟔𝐭𝐡 𝐨𝐟 𝐒𝐞𝐩𝐭𝐞𝐦𝐛𝐞𝐫 – 𝐃𝐢𝐚𝐥𝐨𝐠𝐮𝐞 𝐬𝐞𝐬𝐬𝐢𝐨𝐧𝐬
"Medium Voltage Diode Rectifier Design for High Step‐Up Panel F 3.3 DC‐DC Converter" (Panel F 3.3)
LE METAYER Pierre, BUTTAY Cyril, DUJIC Drazen & DWORAKOWSKI Piotr
𝐖𝐞𝐝𝐧𝐞𝐬𝐝𝐚𝐲, 𝐭𝐡𝐞 𝟕𝐭𝐡 𝐨𝐟 𝐒𝐞𝐩𝐭𝐞𝐦𝐛𝐞𝐫 – 𝐋𝐞𝐜𝐭𝐮𝐫𝐞 𝐬𝐞𝐬𝐬𝐢𝐨𝐧𝐬
"Comparison of redundancy requirements for Modular Multilevel Converter considering manufacturer reliability inputs and mission profile" (15:40 LS5d ‐ Topic 4: Control of Power Converters)
VELAZCO Diego, BOUTLEUX Emmanuel, CLERC Guy & WALLART François
𝐓𝐡𝐮𝐫𝐬𝐝𝐚𝐲 𝐭𝐡𝐞 𝟖𝐭𝐡 𝐨𝐟 𝐒𝐞𝐩𝐭𝐞𝐦𝐛𝐞𝐫 – 𝐋𝐞𝐜𝐭𝐮𝐫𝐞 𝐬𝐞𝐬𝐬𝐢𝐨𝐧𝐬
𝐓𝐡𝐮𝐫𝐬𝐝𝐚𝐲 𝐭𝐡𝐞 𝟖𝐭𝐡 𝐨𝐟 𝐒𝐞𝐩𝐭𝐞𝐦𝐛𝐞𝐫 – 𝐃𝐢𝐚𝐥𝐨𝐠𝐮𝐞 𝐬𝐞𝐬𝐬𝐢𝐨𝐧𝐬
"Open‐Delta SBC: a New Converter Topology with Low Number Panel E 1.2 of Sub‐Modules for MV applications" (Panel E 1.2)
LANZAROTTO Damiano, MOREL Florent, STECKLER Pierre­-Baptiste, VERSHININ Konstantin
"Aspects of stability issues of HVAC/HVDC coupled grids" (Panel A 4.3)
BAKHOS Gianni, BACHA Seddik, BENCHAIB Abdelkrim, GONZALEZ TORRES Juan­ Carlos, SHINODA Kosei, VANFRETTI Luigi
"DC‐MMC with reduced number of sub‐modules providing fault blocking capability in HVDC Grids" (Panel A 7.2)
PAEZ Juan, BACHA Seddik, DWORAKOWSKI Piotr, MOREL Florent
During the conference, Piotr DWORAKOWSKI will also be the official Chair of several sessions. Congratulations!
Come & talk to our experts at the conference to find out more!