SuperGrid Institute's participation in
PROMOTioN's Work Package 9
SuperGrid Institute is proud to have been an active participant in the PROMOTioN project since 2016. This project is part of the European Union's Horizon 2020 program and is made up of several work packages (WP) that share a common aim: developing meshed HVDC offshore grids that are both cost effective and reliable, through technological innovation. SuperGrid Institute is an active member of several Work Packages, including WP9 whose objective is to develop fault clearing strategies using Hardware-in-the-Loop (HIL) real-time simulation (RTS).
Since 2018, SuperGrid Institute has been working as part of WP9 to achieve its objectives by leading the work on demonstrating the performance of non-selective fault clearing strategies (see Fig. 1), which is one of the protection system strategies classified and developed by WP4. As part of its work with WP9, SuperGrid Institute is collaborating with experts from universities (KU Leuven, TU Delft, RWTH Aachen, KTH), laboratories (SHE Transmission's National HVDC Centre) and companies (Mitsubishi Europe, SCiBreak) from across Europe. The WP9 group leader is SHE Transmission, the Scottish transmission system operator.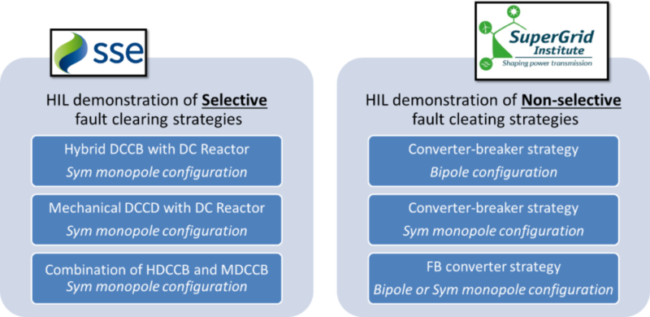 Fig 1. SHE Transmission and SGI's contributions to WP9 covering the whole spectrum of fault clearing strategies developed in WP4.
SuperGrid Institute uses its HIL test platform to perform feasibility and performance tests on Intelligent Electronic Device (IED) prototypes using a real-time simulation of an HVDC environment (Fig. 3) which includes several computational models for HVDC technologies, such as MMC converters and HVDC breakers.

Fig 2. The HIL test bench at SuperGrid Institute, used for testing IED prototypes in the converter-breaker fault clearing strategy for meshed HVDC grids.
SuperGrid Institute's WP9 project is expected to last a year, running until October 2019. It will produce two main deliverables for the project: a report outlining DC grid benchmark models with a description of the protection system test guidelines, and a demonstration of the HIL test results. As the SuperGrid Institute HIL platform manager, William LEON GARCIA will be leading the activities related to this project. Several members of the Supergrid Architecture & Systems program will be involved in the project, enabling SuperGrid Institute to provide valuable outcomes for the PROMOTioN project.
What is the PROMOTioN project?
PROMOTioN stands for 'PROgress on Meshed HVDC Offshore Transmission Networks' and the project benefits from EU funding as part of the Horizon 2020 (H2020) programme. PROMOTioN seeks to develop meshed HVDC offshore grids using reliable technological innovation that takes into account the political, financial and legal issues relating to the wide-scale deployment of this network.
Launched in January 2016, PROMOTioN is organised into a total of 16 work packages (WP's). SuperGrid Institute is actively participating in 5 work packages. For example, within WP4 it is developing fault clearing strategies for meshed HVDC grids, and reviewing other WPs. One of the WPs being reviewed is WP9 whose objective is to demonstrate the operation of fault clearing strategies using Hardware-in-the-Loop (HIL) real-time simulation (RTS) methods. WP9 coordinates with WP4, WP6 (DC breaker models) and WP16 (full-bridge MMC models), as shown in the diagram below.

Fig 3. Framework for the development of HVDC grid protection systems with the aim of demonstrating their operability.