SuperGrid Institute equips itself with a highly performant High Power Source facility, the first of its kind in Europe
After more than 6 years' work on designing, constructing and performing acceptance tests, our High Power Source test platform was inaugurated on Tuesday the 28th of March. The inaugural ceremony was attended by representatives of the State and Region, our shareholders, customers and the contractors we called on for the construction of this new facility. The platform, the first of its kind in Europe, is a new tool now available to industry for the development of future high-voltage direct and alternating current equipment for the massive integration of renewable energy. Let's look back at this special day filled with emotion!
The short-circuit generator stood proudly amidst the guests gathered around its base on the ground floor of the platform. 4 years after the inauguration of our new premises in Villeurbanne, we thought it essential to celebrate this new stage in the ongoing development of our company; the commissioning of a new platform, the only one of its kind in Europe, which provides tests for future high voltage equipment in direct current and alternating current at different frequencies.
"Our mission is to provide support for our ecosystem with our resources and expertise. We are a trusted third party who helps manufacturers develop their products, solutions and systems, to strengthen power networks and integrate renewable energies,"
This new "High Power Source" platform represents the largest investment made by SuperGrid Institute to date: €49.5 million in total, with €10 million in funding from the Auvergne-Rhône-Alpes Region. It is also the culmination of six years' work for the project team (50 people from SuperGrid Institute, our project partners and sub-contractors) to construct a building that stands 25 metres high, with a floor area of 520 m2.
The High Power Source is a cutting-edge piece of technology, unparalleled in Europe, situated right in the heart of Villeurbanne. Its existence further reinforces SuperGrid Institute's position as European leader in high-voltage direct current.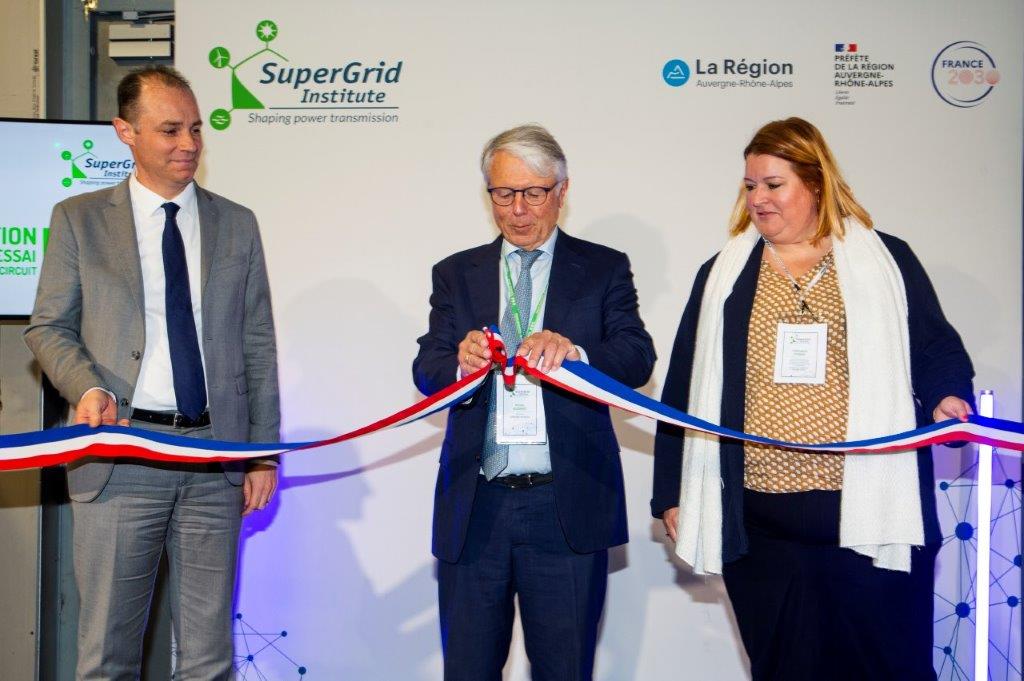 Inauguration of our High Power Source platform by (from left to right), Mr Benoit Rochas, Deputy Prefect of South Rhône, Mr Michel Augonnet, President of SuperGrid Institute and Ms Stéphanie Pernod, 1st Vice-President of the Auvergne-Rhône-Alpes Region.
The first of its kind in Europe
While existing platforms only produce AC current, the High Power Source is capable of producing the real high voltage direct current that devices will encounter in the field. This capacity is made possible by the platform's current rectifier, which converts the current generated by an alternator into high-voltage direct current.
With this platform, SuperGrid Institute is able to perform both DC and AC short circuit tests at various frequencies (10 Hz, 16.667 Hz, 25 Hz, 50 Hz and 60 Hz), and up to 80 kA, on circuit breakers, current limiters, etc. … and any other equipment on request.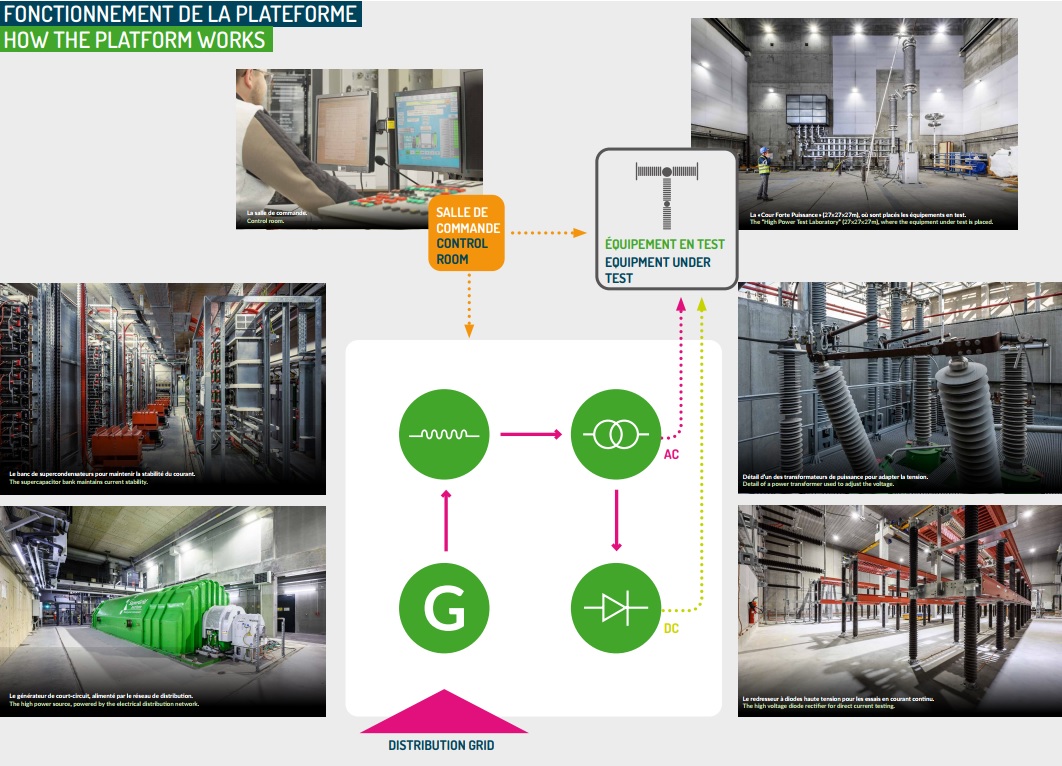 How the plateform works
The High Power Source is powered by the electrical distribution network via auxiliary devices which allow the operators to power up and control the generator. It is connected by power lines to the devices under test located in the "High Power Test Laboratory". For direct current tests, the current is converted before it is transmitted to the Test Laboratory. Depending on the test requirements, additional sources (CERDA) can be connected to the device under test in the Test Laboratory.
Tests performed
Direct current short-circuit tests up to 170 kV DC and 40 kA.
Short-circuit tests in alternating current at 10 Hz, 16,667 Hz, 25 Hz, 50 Hz and 60 Hz and up to 80 kA.
Tests at more than 140 kA when the platform is connected to the CERDA test laboratory's generators.
Thank you to our shareholders and the representatives of the State and Region for attending and for supporting the project. Thank you also to all our partners and contractors for their investment in making our project a reality. And of course, thank you to the numerous guests who attended the official inauguration ceremony for their presence and insightful exchanges!