SuperGrid Institute's project selected for Grid2030
For privacy reasons YouTube needs your permission to be loaded. For more details, please see our
Mentions légales
.
I Accept
Grid2030 – a joint program between Red Eléctrica de España and InnoEnergy – is a four-year program bringing electricity transmission and distribution technologies and innovations to life via the exploration of radically new socio-economic or technical innovations in the power transmission industry.
SuperGrid Institute and IMDEA joint forces with the support of REE, and created a consortium. This consortium was selected from more than 60 applications. Through the "Reduced Inertia Transient Stability Enhancement" (RITSE) project, SuperGrid Institute will strive to improve the transient stability of the AC networks by coordinating the use of batteries and HVDC links.
Grid2030 projects focus on innovation development with the objective of demonstrating that technology (below or at TRL4- Technology Readiness Level 4), basic products, services or processes can work in a (future) business set up.
By joining their efforts and creating a consortium, IMDEA Energy Institute and SuperGrid Institute have decided to apply for such an innovative project in the area of power system stability enhancement in the context of the evolution of the generation mix towards more intermittent sources and a reduction of the system inertia. Complementarily with IMDEA's BATTERTIA concept to tackle stability problem locally, SuperGrid institute had proposed to use HVDC link control with the so-called DVAC concept for more global action in the power network. The option of actively coordinating DVAC and BATTERTIA solutions makes the project contribution greater than just a simple sum of these two components.
The DVAC consists of an innovative method to control embedded HVDC links in order to contribute to the transient stability improvement of AC power networks. The control scheme computes the necessary active power references for each station of a VSC-HVDC link allowing it to emulate the behavior of a self-tuning loss-less AC transmission line connected in parallel with this VSC-HVDC link.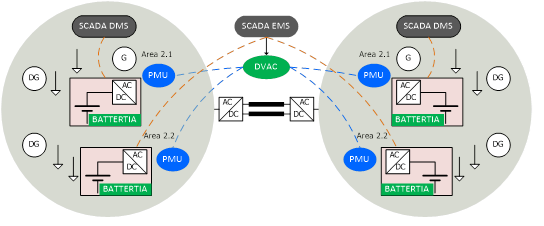 Fig. DVAC & BATTERTIA for grid transient stability enhancement
There are multiple benefits of the Grid 2030 Project for SuperGrid institute such as the partnership with a TSO which is an imposed condition of the French State for the approbation for the 2nd 3YP, gaining access to specific knowledge and data from a TSO bringing value to the proposed concept, allowing for public exposure to our business and to accelerate our go to market strategy.