Toward deeper submarine cable installations
Numerous High Voltage Direct Current (HVDC) submarine cables have been installed in Europe and more are yet to come. Such transmission allows the trading of energy or the supply of isolated areas with almost no limitations on distance (typically 100-1000km). Interconnections such as NorNed and soon Nord Link and North Sea Link will provide a safe path for the large integration of renewable energies in northern Europe (Figure 1).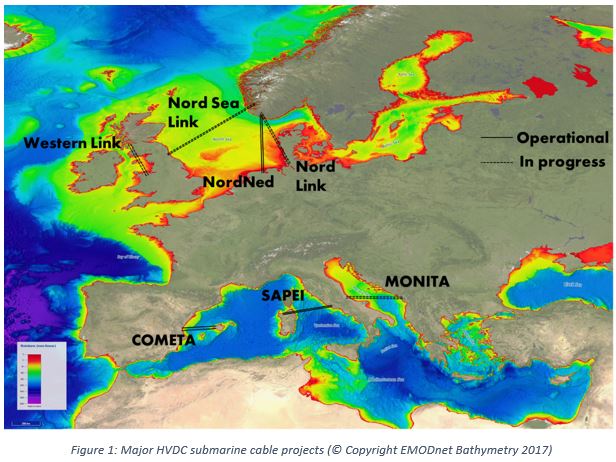 With an average water depth of 90m the North Sea is a relatively shallow water where installation does not present particular challenges. Dedicated vessels such as C/S Nexans Skagerrak (figure 2) can transport up to 100km of cable in one length and take part to the trenching and laying operations. The burial depth is an important topic as it is a tradeoff between the risk of an external damages and the maximum transmissible current.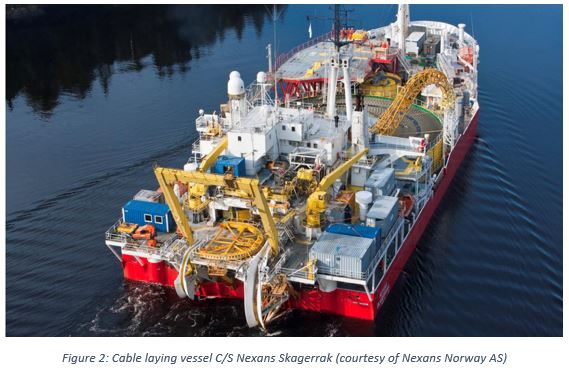 Three deep water cable links have been installed or are in progress in the Mediterranean Sea. With a water depth of 1650m the link between Sardinia and continental Italy (SAPEI) is the deepest of the kind. Cable weight is an important parameter for such projects. The lighter the design, the lower the load on cable and boat tensioners during installation. By replacing classical copper conductor with aluminum the design can be significantly lighten, yet the developed tension is tremendous (typically 50 tons) and cable armour play a central role as it sustain up to 90% of the total tension. For such depth a double layer of steel wires provided the right tensional and crush strength.
More projects are being investigated in the Mediterranean Sea such as a trans-Mediterranean and Euro-Asiatic link.  The installation at an extreme depth of 2500-3000m precludes the use of classical laying technics in favour of expensive vessel from the oil and gas industry. A light cable with a strong armour is crucial to the feasibility of such projects. For this purpose Program 4 investigates several extra high voltage submarine cable design with polymeric insulation capable of being laid at such depths.
[wcp-carousel id="11912"]