The rise of variable speed Pump Storage Plant (PSP)
Pumped Storage Plants (PSP) are the most reliable and well-known energy storage technology for high power applications.
The needs of the future power network including DC transmission and intermittent power sources demand for fast responses from those storage plants. In order to face this new environment, the Variable Speed PSP (VarSpeed PSP) allows a faster response to the power grid.
VarSpeed PSP can provide not only bulk power storage with high efficiency, but also provides services to improve the flexibility of the future SuperGrid.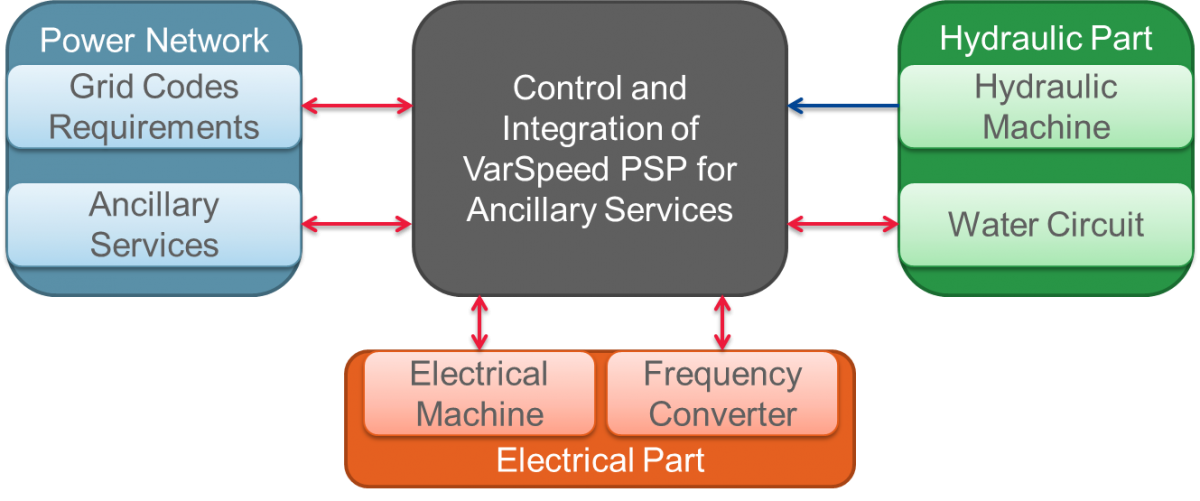 To mitigate the intermittency of the new renewable energy sources, Variable Speed Pumped Storage Plants (VarSpeed PSP) provide an elegant solution. VarSpeed PSP can change the power output in a fast pace in order to maintain the power balance of the electric grid. Improve the power response even further is the key challenge to improve the flexibility of the future energy grid and increase the share of renewable energy sources. Nevertheless, the solutions proposed must take into account the dynamic constraints and the dynamic performances from the hydraulic side, this domain is rich on open problems and locks.
For this purpose a collaboration started between programs 1 (Supergrid architectures) and 5 (stabilization/ storage) in order to build a familly of models suitable for control/optimisation issues.
[wcp-carousel id="11912"]