DC-DC 100 kW power converter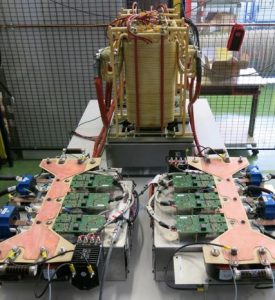 SuperGrid Institute has succeeded in the preliminary tests on their first DC-DC power converter in September 2015.
The power converter nominal power is 100 kW with an input voltage of 1 kVdc and an output voltage of 500 Vdc. The converter topology is a Dual Active Bridge with silicon carbide transistors and a medium frequency transformer.
It is characterised by a very high efficiency, reaching 98 % and an extremely compact size even with air cooling.
The power converter operates at nominal frequency of 20 kHz. Such a high frequency is possible thanks to very low switching losses of silicon carbide transistors but it requires a very particular design of the medium frequency transformer.
A significant challenge for fast switching converters is the control. Thanks to model based design and rapid control prototyping a very fast and robust control has been achieved.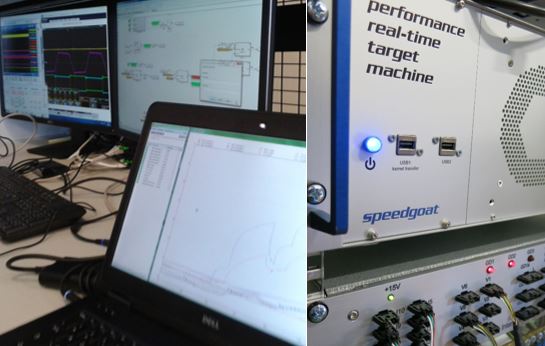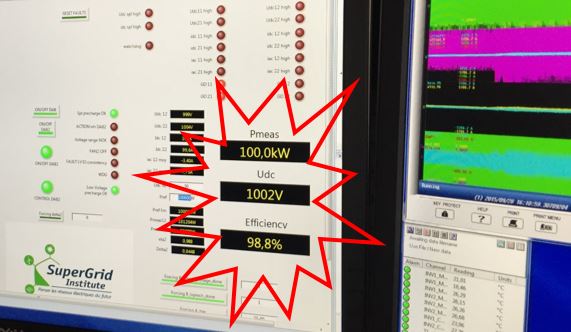 Just after the converter assembly and the test bench construction, in less than 3 months it was possible to progress from very low voltage tests to the high voltage, full power tests. Finally the project objective has been reached: 1 kV 100 kW in one year from the start of design!
In spring 2016 SuperGrid Institute will reveal the second version of the converter equipped with internally designed 1,7kV 2x250A SiC MOSFET power modules and an optimised mechanical design.
[wcp-carousel id="11912"]