SuperGrid Institute's training offer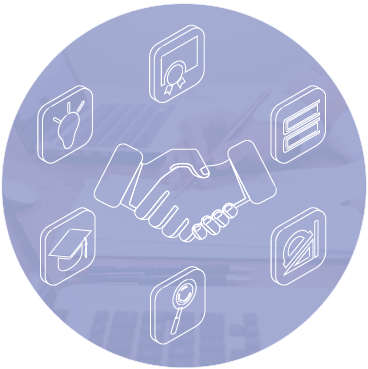 SuperGrid Institute: a unique partner for your training needs
By combining industry and academic knowledge and expertise, SuperGrid Institute has created a unique environment for research; an incubator for innovation working at the forefront of HVDC supergrid technologies. As the only privately run research centre of its kind in France, we are able to dedicate our complete array of resources to benefit our clients and partners and provide thorough and personalised training solutions.
Which of SuperGrid Institute's training offers is best suited to you?
At SuperGrid Institute, we have made it our mission to promote energy transition and HVDC technologies by sharing our knowledge and expertise on HVDC supergrids and rendering the information accessible to all.
In order to accomplish our mission and accommodate your needs in the best possible way, we have developed several training offers aimed at different client profiles. Find out which solution will best suit you. You are:
Two options are available to you:
Sign up to our online E-learning platform and enrol in one of the modules in our growing library of resources on HVDC supergrids. A practical and affordable solution for those looking for flexible learning.
Enrol in a lifelong-learning course delivered via one of our partner training organisations. Courses run for 1 to 5 days depending on the subject and are offered at various periods throughout the year.
Your company has acquired a new technology or product from SuperGrid Institute and needs training to maximise its potential. SuperGrid Institute will support your teams as they learn to master your newly acquired technology by providing personalised product knowledge training that caters specifically to your needs.
Speak to your SuperGrid Institute contact about receiving a personalised training programme with your latest acquisition.
Your company is looking to invest in its workforce through technical training.
SuperGrid Institute can offer you training modules that are designed specifically around your needs. Drawing on our wide range of expertise, we develop courses that focus explicitly on the subjects that are relevant for your company's activities.
Please contact us for more information.
Two options are available to you:
Sign a framework agreement with SuperGrid Institute and benefit from of our knowledge and expertise. Collaborate with us on student projects or in the development of curricula for your postgraduate courses.
Please contact the training department for more information.
Make use of our growing online learning content; enrich your course materials and give your students access to our applied research on HVDC supergrid technologies.
Please contact the training department for more information.
Under specific circumstances, a selection of our test platforms can be made available for training purposes.
We can also host tutorials and seminars at our headquarters in Lyon. If you are looking to organise a tutorial or seminar, please contact us.