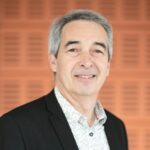 "Our training programme aims to render HVDC and MVDC technologies and innovations accessible to all, from initial training to lifelong learning. At SuperGrid Institute, we believe that effective learning is achieved through one's own experience, "learning by doing". Our collective knowledge and know-how drives our training offer; paving the way to future power grids."
Amiel Kaplan, Training Programme Director
SuperGrid Institute: a unique partner for your training needs
By combining industry and academic knowledge and expertise, SuperGrid Institute has created a unique environment for research; an incubator for innovation working at the forefront of HVDC supergrid technologies. As the only privately run research centre of its kind in France, we are able to dedicate our complete array of resources to benefit our clients and partners and provide thorough and personalised training solutions.
Understanding HVDC supergrids is crucial for the future of the energy industry
At SuperGrid Institute we proactively address this need. Our educational mission is to explain what a supergrid is and to render this information accessible to all by supporting educational institutions in the development of their training offers on HVDC & supergrid technologies. We work to promote energy transition through the means of education at every level. Our research engineers, with backgrounds in academia or industry, work alongside PhD students and interns to carry out applied research that addresses industry needs.
Our 4 main target areas for education
The energy experts of tomorrow are the young people of today. SuperGrid Institute has therefore made it its mission to inspire the next generation, encouraging them to take an interest in electrical power systems by running outreach events and visits of its research facilities.
We also help schools discuss energy efficiency issues by working with teachers to develop projects that can be used in our outreach events that explain the principals of electricity transmission and renewable energy generation in an accessible, engaging way.
As the energy industry shifts towards DC transmission and the integration of renewable energy sources, the electrical system is evolving. It is therefore essential that the next generation of electrical engineers and materials experts receive an education that prepares them for this new field.
SuperGrid Institute works closely with higher education organisations to develop curricula that include projects on HVDC supergrids. We also offer internship and PhD opportunities to their students.
HVDC supergrids and the integration of renewable energy resources are the key drivers for change in the energy industry. For companies working in this industry, it is essential to keep up with the technological developments and ensure their workforce acquires the necessary competencies.
SuperGrid Institute, and its training partners, design short courses that cover DC grids and technologies. These professional development courses are aimed at companies looking to provide training for their personnel.
As the no.1 patent applicant in Small & Medium sized businesses in France in 2018, SuperGrid Institute is in the business of inventing new technologies.
When your company purchases our innovative technologies, we make sure that you get the best possible use out of SuperGrid Institute's solutions. We provide personalised, in-depth product knowledge training that caters specifically to your needs and offers support during the integration phase of your company's latest technological asset.