Power converter test platform
Available services
Complete Power converters and/or convertor components can be investigated when using our convertor facility
Converter test bench development
Converter tuning and validation up to TRL5
Converter component validation up to TRL6 & TRL7
Consulting services for power converter testing and validation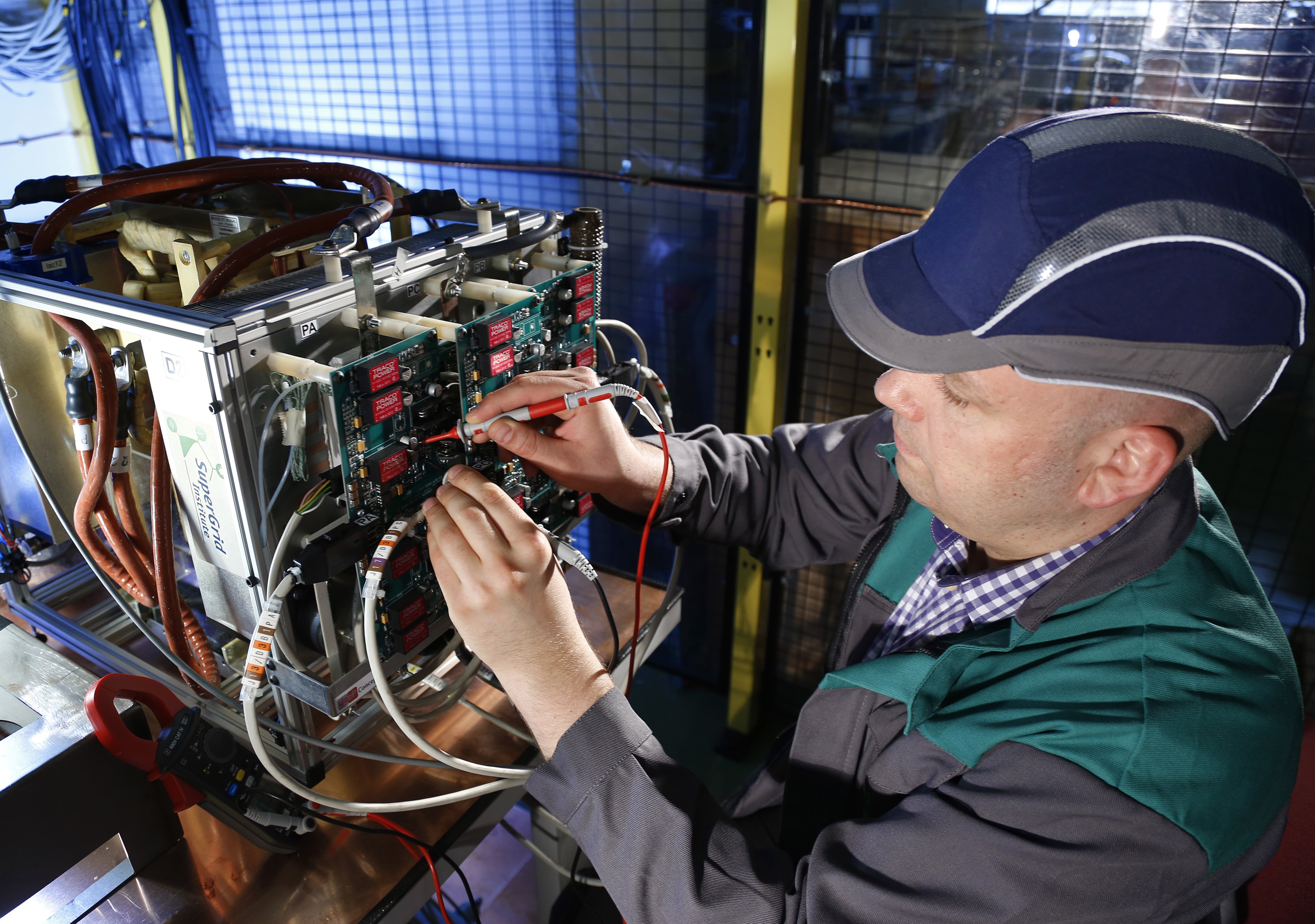 Laboratory & Equipment description
The test-bench is designed to carry out tests in a back-to-back configuration. For this, two converter prototypes are required.
The shielded laboratory, a Faraday cage, is equipped with filtered power supply and fiber optic controls. It can accept prototypes that require up to 7,5kV and 100 kW of DC power and can combine the following three cooling methods: 100kW water, 20 kW forced air and 20kW natural convection. Controlling the converter and the test bench is done via Matlab/Simulink CPU, FPGA code generation and a Speedgoat real time target. The resilient integrated safety interlock system allows for multiple fault testing.
Performance:
Voltage: up to 50kVac and 75 kVdc
Power: up to 10MW in back-to-back
Size: 5x5x3m, 1 cubic meter max single object
Cooling: water, natural or forced convection
EMC shielding: 100dB, 10kHz – 10GHz
Control based on rapid control prototyping
Measurements: U, I, T, efficiency
Safety: integrated interlock system
Added value
Introducing a new concept of high voltage and high power converters implies multiple mandatory validation steps prior to industrialization.
Most commonly, these are the steps performed:
off-line simulation
real-time simulation including Hardware In the Loop testing (HIL)
small scale mock-up with Power Hardware In the Loop testing (PHIL)
prototype testing on a power test bench
demonstrator testing in the real environment
The power converter platform allows for the validation of different converter topologies ensuring the TRL5, as well as to extend the validation of converter components (power modules, capacitors, controls, cooling, …) up to the TRL6/7.
The power converter platform is suitable for testing of DC-DC and AC-DC power converters for the following applications:
Grids: HVDC, MVDC, LVDC
Renewable energy: photovoltaic, wind, tidal
Railway traction: on-board, off-board