Medium Frequency Transformer
Available services
Characterization of Medium Frequency Transformer
Power losses measurements
Current/Voltage Wafeforms sampling
Characterization of magnetic circuits
SuperGrid-Institute offer a complete solution for testing medium frequency transformers in various conditions: no-load, short-circuit, full-load, and with two types of excitation waveforms: sinusoïdal and square full wave shapes. This provides the high benefit of being able to test the components in real condition and to get accurate characterization before their implementation inside the whole converter.
SuperGrid Institute is also equipped with specific means allowing the magnetic characterization of materials in medium frequency condition.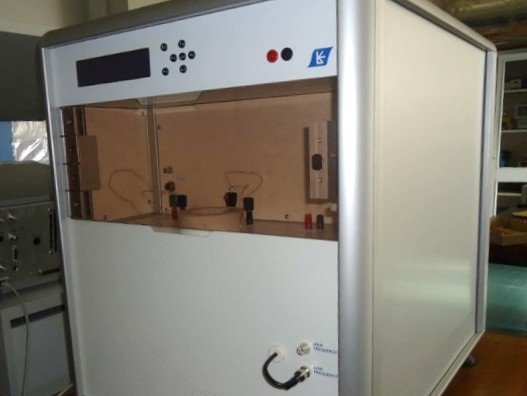 Laboratory & Equipment description
The SuperGrid MFT test platform is able to perform the following test configuration:
Medium Frequency Transformer characterization
Complete range: 50 Hz – 100 kHz
Voltage excitation: sinus or square full-wave
Single phase mode, evolution into 3-phase
No-load: 6kV – 10A, single phase primary
Short-circuit : 1 kV – 500A
Full-load : 6 kV – 500A (back-to-back)
Magnetic characterization:
Typical samples: cross section 2.8 to 5.4 cm2 – av. lengh 18 to 34 cm
Frequency range: DC to 1 MHz
Induction levels: 1.2 T in static – 0.8 at 40 KhZ
Exc. waverforms available: Sinus – Triangle – Trapeze / H control or B control
Outputs: B(H) characteristics – Power losses measurement
The test bench was constructed so as to perform high voltage measurements under perfect safety conditions, by means of a remote control area using fiber optic links towards the high voltage test area. A sophisticated and user-friendly human machine interface allows the tests to be carried out and achieves automatic electrical safety configuration after completion.
The measurements of power losses and efficiency can be carried out with excellent accuracy on the complete frequency range.
Added value
The continual rise of renewable energies around the world and the need to transport this energy over very long distances will result in the predominance of DC grids and meshed DC grids that will complement or replace the traditional AC grids architecture in the near future. Those new architectures of DC networks will consist of many power converter structures involving power transformers.
The technological advances in the field of power electronics nowadays make it possible to use "large GAP" components working within high frequency range (typically 1 kHz up to 100 kHz). As a consequence, the size and the weight of passive components can be drastically reduced.