Dielectric Design & Testing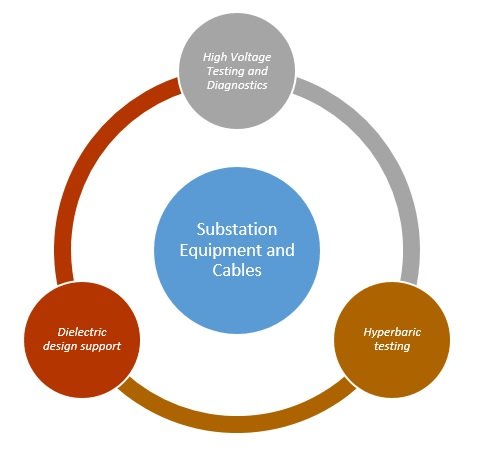 The High Voltage Equipment Industry, whether manufacturers or users of equipment are faced with the challenge to adopt to the evolving needs in terms of:
minimizing of dielectric designs to reduce footprint of equipment while ensuring their reliability and longevity
reducing carbon footprint by replacing SF6 gas insulation with substitute gasses
producing reliable measurements for the control and protection of the HV system
validate new design and investigate observed phenomena through tests replicating actual service conditions and physical stresses
These challenges are particularly important when it comes to equipment and dielectrics subjected to DC stress, as the behavior of dielectrics is much more complex under DC voltage than under AC voltage.
Dielectric design support
To perform optimized and reliable dielectric design, one have to have deep knowledge about the characteristics of the materials applied and their behavior under various conditions (stress under AC, DC and Impulse voltages, Temperature distribution, pressure etc.) – and it requires use of multi-physic simulation tools that can emulate the field distribution for a given design.
SuperGrid Institute offers to accompany our clients in designing high voltage equipment and components – and in particular in dealing with the electrical stress in gaseous and solid dielectrics, for which we propose to:
Perform simulations of electrical stresses
Develop specific models for our clients to represent the behavior of their materials in the work environment
Assist in problem solving and understanding of specific phenomena
Design or optimize parts of equipment according to client specification
This allows our clients to have solve design problems without investing massively in building a knowledge base, tools and experience needed while:
acquiring better understanding of constraints and dimensioning of products
differentiate products and anticipate risk on future interdiction of SF6 by developing SF6 free equipment
reduce risk and time for development of new products
This service may be accompanied by characterization of materials to be used and testing of proto types on our high voltage dielectric platform.
High Voltage Testing and Diagnostics
For developers, manufacturers and users of high voltage equipment and cable systems, SuperGrid Institute offers to perform test to validate and qualify new designs and investigate particular phenomena according to standardized test protocols or to protocols specifically developed for a given investigation. Among others our high voltage dielectric platform, allows:
Dielectric test on AC and DC equipment up to 500 kV rated as development test
Development test, type test or long term ageing tests of AC or DC cable systems with thermal cycling
Space charge measurements in DC dielectrics
To support the test we have assembly workshop as well as equipment for handling gaseous insulation (SF6, CO2, N2 and SF6 substitutes)
Hyperbaric testing
Floating wind turbines, generators exploiting tidal currents or wave energy as well as the offshore oil and gas sector is spurring an increasing demand for subsea connectors such as wet mate and dry-mate connectors. Theses connectors need to be tested and qualified under environmental constraints replicating the actual environment in which they will work.
SuperGrid Institute offers to perform development and qualification test on subsea equipment on its unique hyperbaric test platform for voltage level up to 500kV. This platform allows not only to replicate the water pressure on the equipment, but allows to actually test an entire cable system with cables feeding through the hyperbaric vessel in order to induce high currents for heat cycling and apply high voltages for accelerated ageing of the subsea connector with the cables.
For further information on services relating to our offer for Dielectric Design and Testing, please contact us.