Ongoing training projects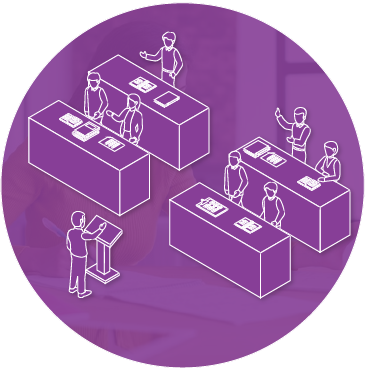 SuperGrid Institute has a clear educational mission. As an Institute for Energy Transition (ITE), we can count a number of higher education organisations amongst our shareholders. In order to provide a coherent training offer, we have also established new collaboration agreements with a number of other educational organisations, who provide learning opportunities, from high school level to lifelong learning courses.

Since 2016, INSA Lyon has been running an Electrical Engineering master's programme with a special focus on converters and grid simulations (option REEL). As part of the framework agreement between the two institutions, SuperGrid Institute works closely with the engineering school, helping them develop curricula which include modules on HVDC grids. By sharing its expertise in this field, SuperGrid Institute is helping to ensure that INSA Lyon's graduates will have a keen knowledge of the issues involved in the electrical systems of the future. We further support the students by offering internship and PhD student contract opportunities with us.

The Conservatoire National des Arts et Métiers and SuperGrid Institute signed a framework agreement in 2019. This agreement gives us the framework from which to build modular courses ranging from 1 to 5 days in length. These courses will focus on DC grids and range from an introductory level to confirmed engineering level looking specifically at grid modelling and power converters. Our first modular course with the CNAM will be open for inscriptions in autumn 2019. Building the learning content for this course has also given us the opportunity to take on an engineering student from the CNAM for a 6 month period, thereby reinforcing our partnership.

The Lycée Arbez Carme specialises in the science and technology of plastics. As all electrical equipment needs insulation, collaborating with a technical school that specialises in plastics is a pertinent choice. To launch this collaboration, SuperGrid Institute proposed a project for the undergraduate students to create stands for the interactive displays used during our outreach sessions. The students will benefit from working on a real product that responds to a client's brief and will also have the opportunity to visit of our 3 cutting-edge materials laboratories.

An international master's program, delivered in English, has been running at Grenoble INP since 2011 and for the last 2 years, SuperGrid Institute has been collaborating with the engineering school to develop content related to HVDC grids for their Master in Electrical Engineering for smart grids and buildings course. The resulting major focused specifically on Power Electronics and HVDC and the course's induction day was held on our premises. We also provide project subjects for the master's students which are supervised by members of the SuperGrid Institute team. Our collaboration with Grenoble INP is another example of how we are working to ensure future excellence in the field of HVDC supergrids.

At SuperGrid Institute, promoting energy transition in schools is part of our educational mission. As part of SuperGrid Institute's framework agreement with Lycée Branly, we gave its students the opportunity to work on a practical engineering project. The undergraduate students designed and built an interactive learning app based on a concept proposed by SuperGrid Institute employees. The aim of the app "Cablia" is to learn about designing, sizing and choosing materials for high voltage DC cables according to their use in different environmental applications (subsea or underground). The app will be used at our outreach events. Our collaboration with Lycée Branly enables us to create awareness and enthusiasm for electrical power systems amongst the school's students and to encourage them to pursue the subject in their subsequent studies.